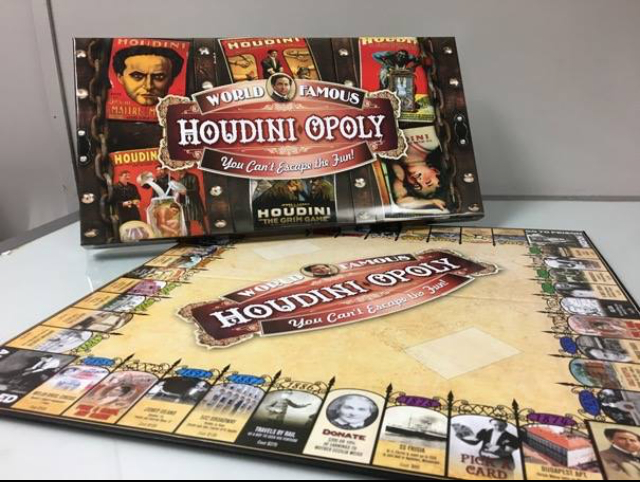 Current Houdini-Opoly news! Games have been shipped! All games are shipped with USPS Tracking. The only games that have not been shipped are ones where we could not confirm an address. Thank you all for your patience and help. This has come to a successful completion. ISBN-10: 1-948152-00-2, ISBN-13: 978-1-948152-00-6
This is a limited edition game. Don't wait to order!

For USA buyers, you can order with paypal, 1, 2 or 4 HoudiniOpoly games by clicking on this next pull down menu

For USA buyers, you can order with paypal, 1, 2 or 4 HoudiniOpoly games with the extra pawns for each set by clicking on this next pull down menu

SET OF 14 PAWNS THAT MAKES THE GAME SO MUCH MORE FUN AND EXCITING! $20. US SHIPPING INCLUDED. The game comes with 6 ordinary standard small chess-like pawns as well. But we have 14 extra "Houdini" related pawns tp make the game a lot more fun. A fan, Kenny Biddle, put up this cropped picture of the pawns on his facebook page. (See below for a detailed explanation of the meaning of each of the special pawns shown. )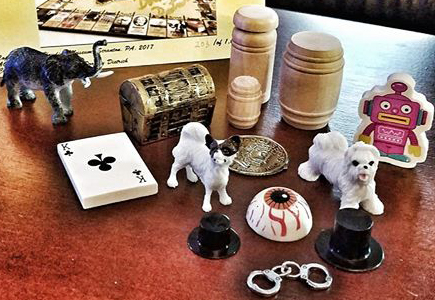 We will also be putting them on ebay at the same Buy It Now price. Possibly Amazon. Due to the nature of Opoly games, over time, fewer and fewer games will remain unopened, complete and intact. Once those are gone, the collectors market takes over!
Ebay has a rare collection of Houdini movies for sale
For out of USA buyers for pricing email us at, magicus(at)comcast(dot)net Or phone call (570) 342 5555. Due to high shipping prices of US Postal service prices can range from $40-$80 just for shipping. Sorry, but this is out of our control.
Below, the yellow button is THE paypal link for additional donations, shipping costs, Houdini Program or T-Shirt addons, post cards, or buy additional HoudiniOpoly Games, etc, as per notification to you from the Houdini Museum. KickStarter backers who are rounding out their orders can also use the donate button below. There is a box when you pay via that button that comes up and says "note to seller" where you can add what it is for, or T-shirt sizes, etc. If we are not sure we will contact you.
You can also call us anytime at 570 342-5555 with a credit card, or for other information.
HoudiniOpoly Pawns..
KickStarter

enabled us to add appropriate play pieces, in addition to common pawns. A playing card pawn,
an imitation gold coin, an elephant, a top hat, two barrels, a milk can, a trunk, two dogs, a hypnotic eye, mini handcuffs, etc.
There are 14 pawns, including a robot.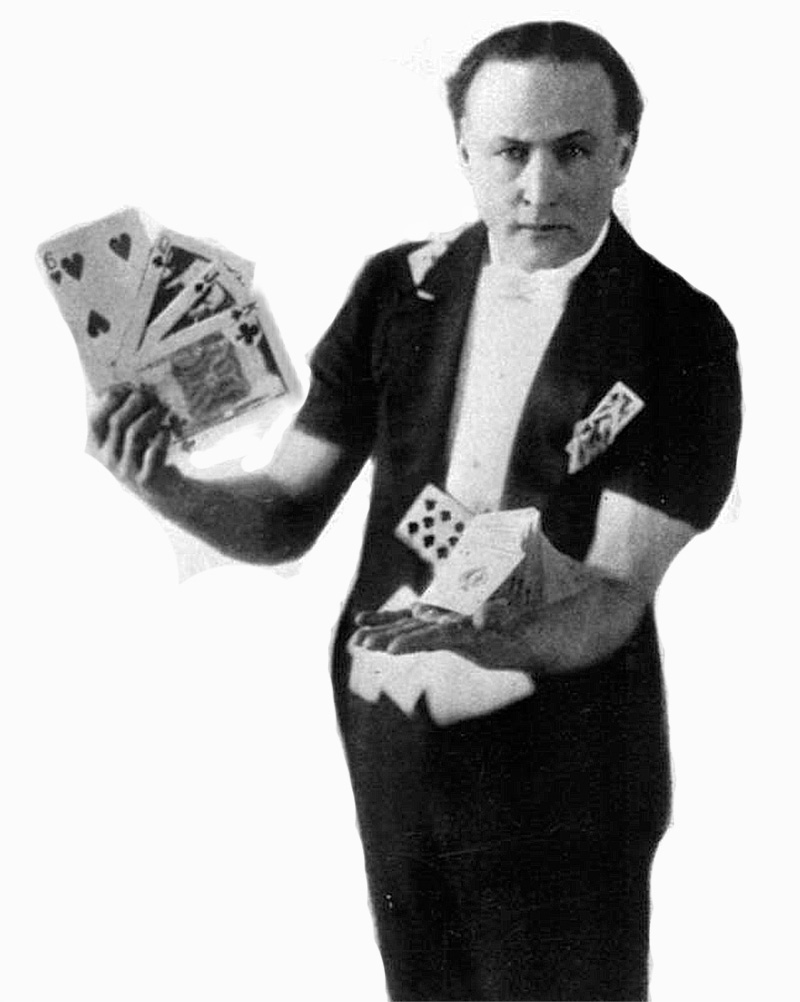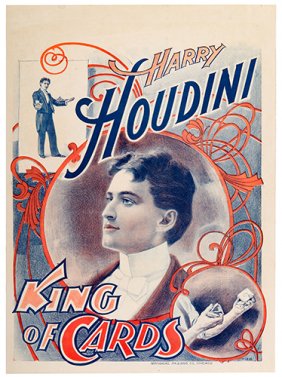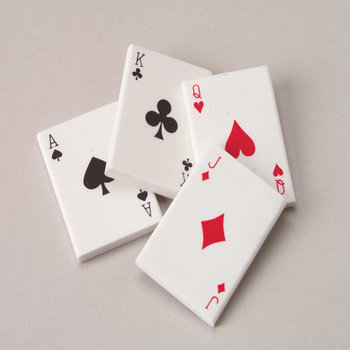 One of Houdini's earliest acts, promotion and poster was as The King of Cards. So we have a pawn in the shape of a playing card for each game.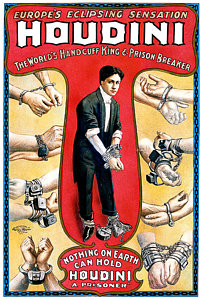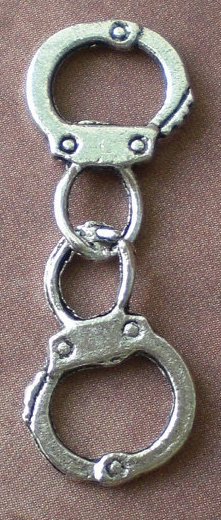 A tiny mini handcuff as well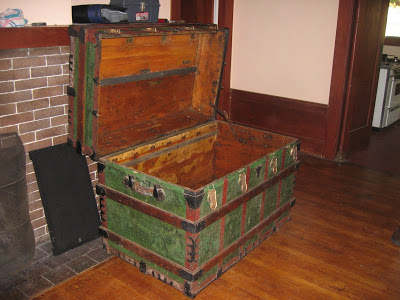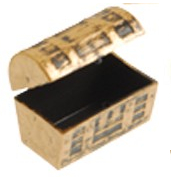 Houdini used one of his own traveling trunks for an escape. We have a trunk pawn.
From 1908 Houdini would bring the danger of his outdoor underwater escapes indoors via the escape from barrel of water, and then beer, and milk. The beer escape brought an additional element of danger, because of the fumes and lack of oxygen, so he would attempt to discontinue them. He did do it for, what seems to be his final time in Scranton in 1917. He then made it more challenging and mysterous when he did the excape from a liquid filled milk can.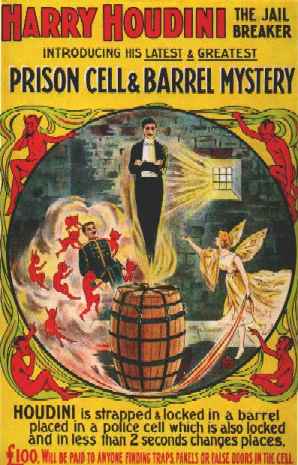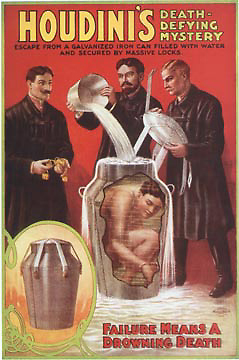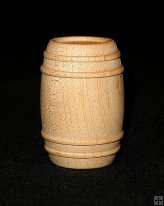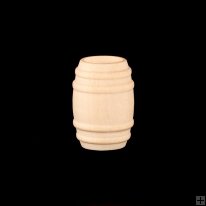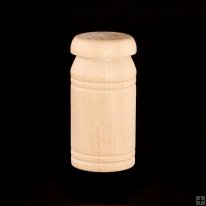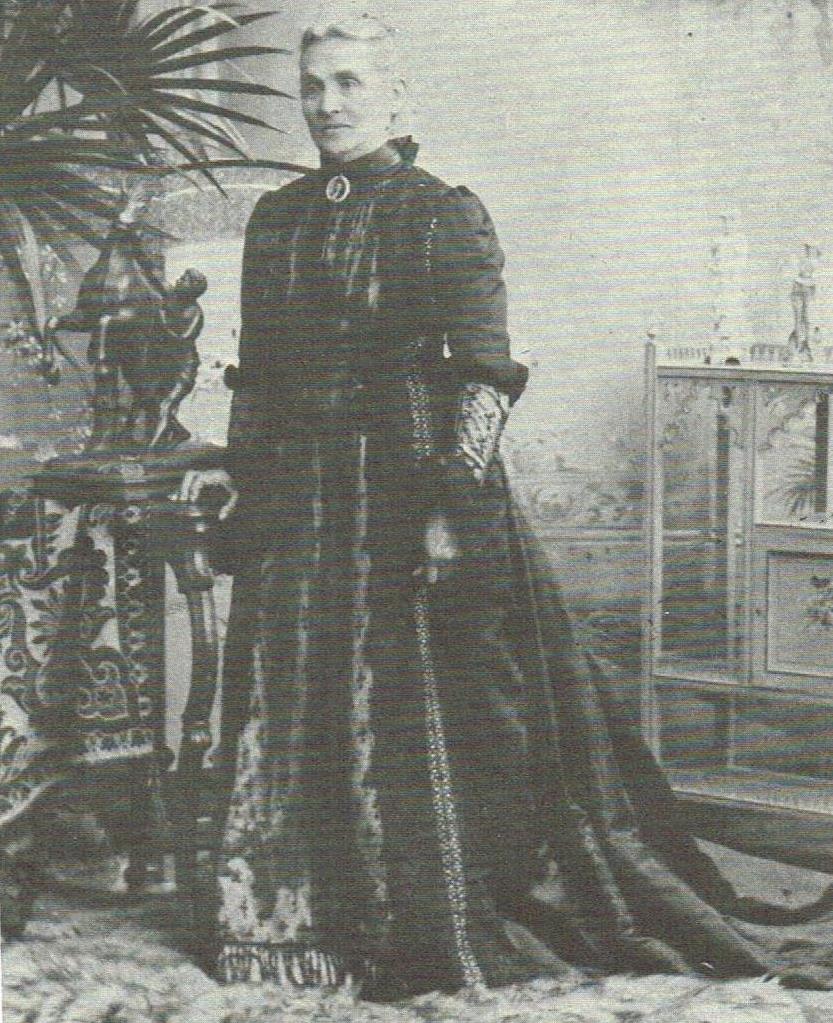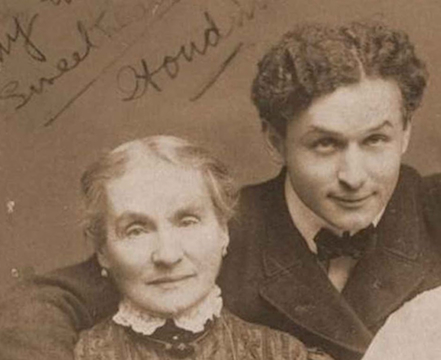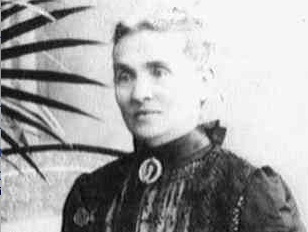 &nbsp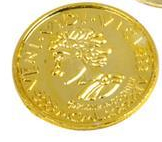 When performing in Hammerstein's Victoria Theatre in 1912 in New York, Houdini requested his weekly salary in gold coins from boss Willie Hammerstein. Hammerstein gave in to this odd request and gave Houdini a heavy canvas bag laden with $1,000 in gold coins After having his assistants polish them, Houdini went to his mother's room at 278 W. 113th Street and according to Bess, he said, "Mother, Mother, do you remember the promise I made to father years ago; that I would always look after you? Look what I bring you now! Hold out your apron!" And he poured the shiny coins from the bag into his mother's lap. His mother clasped her son and tears streamed down the cheeks of both of them. He had kept his promise to his father.
On January 7th, 1918 Houdini performed his "Vanishing Elephant" trick at New York's Hippodrome Theater. The Hippodrome featured the world's largest stage along with a heard of trained elephants. It was only done in NYC. In 1918 at the Hippodrome for 4 months as part of a larger show called "Cheer Up". Then at the Times Square Theatre in 1922 for promotion one of his movies.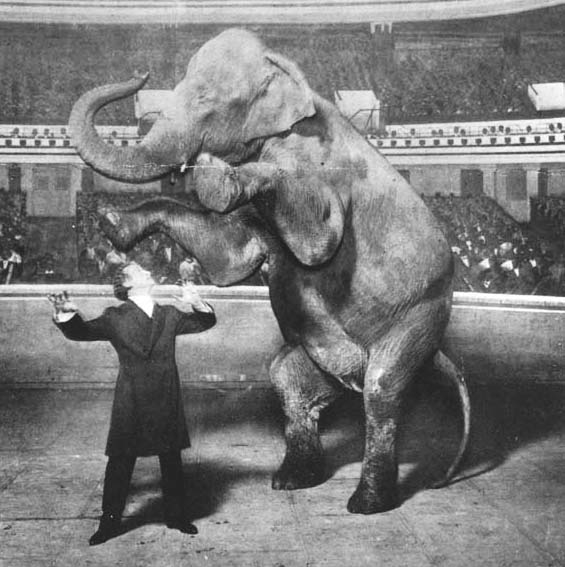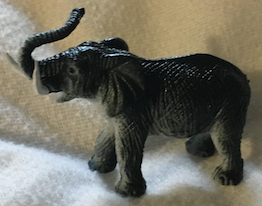 Houdini was the first magician to make an elepant disappear, so we have an elephant pawn for the HoudiniOpoly Game.
Houdini loved animals and for most of his years he and Bess toured with a little dog. Charlie was a tiny poodle they cherrished. They also from time to time used a rabbit, and an "eagle" or falcon in the show. For many years they had a pet parrot.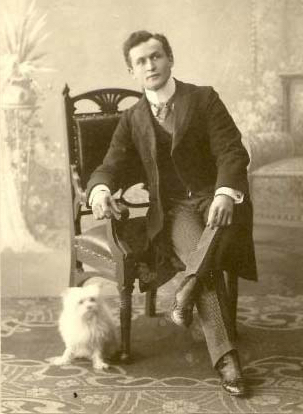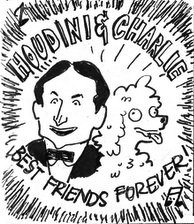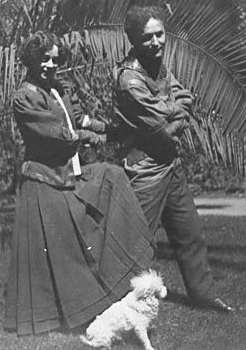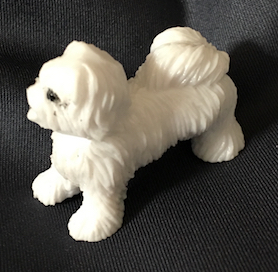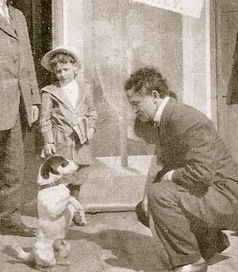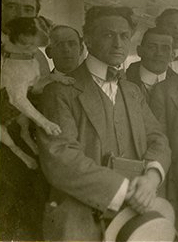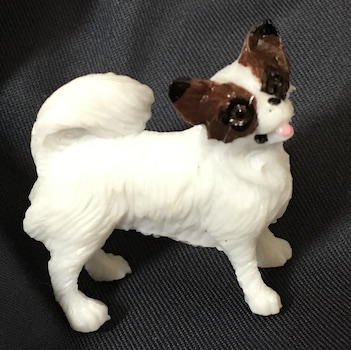 Here's Houdini with doves, rabbits, his dog Charlie and Bobby.
Houdini and his brother, and also an escape artist,
Hardeen, dressed up in Europe. Houdini is in the dark coat.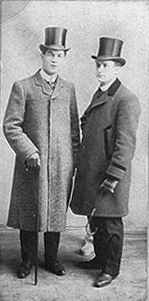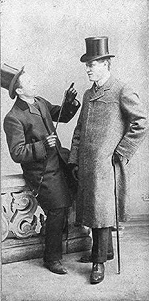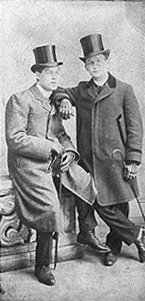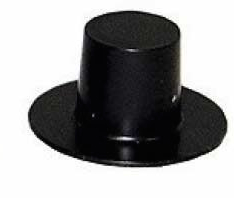 2 different mini Top Hat pawns.
One of these great Robots, since Houdini had the first robot in any major motion picture in "The Master Mystery"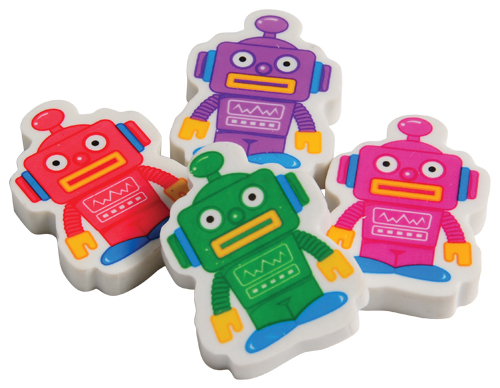 One of Houdini great features were his penetrating, almost hypnotic eyes.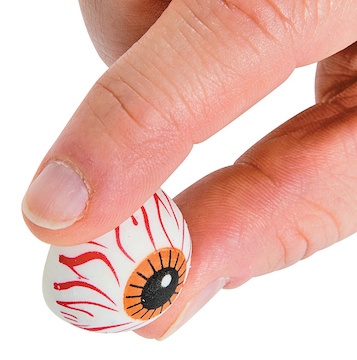 Houdini-Opoly was created by Dorothy Dietrich and Dick Brookz of the Houdini Museum in Scranton, PA.
HoudiniOpoly has gotten great responses. William Rauscher, who just put out a great book out on Hardeen, wrote; Dear Dorothy and Dick, Something very nice happened today. I received Houdini Opoly!!! It is so very impressive. Amazing you were able to make that happen. The artwork, the game itself, the little items for the game, and all else are first class. This must have been an enormous project. The fact that you made it happen is a credit to both of you! I think it is a historic item. I am really impressed! William V. Rauscher mysticlightpress.com
Houdini-Opoly has received uniform praise since its release last month, including raves from the Houdini family:
WOW! What a fantastic job you did on the Houdini-Opoly game. It's gorgeous. We love it. The research and effort you put into this project is much appreciated by the entire Houdini family. Everything you included in the game is top notch and high quality. The photos are all clear, detailed and beautiful. Houdini-Opoly players will learn alot of information about Houdini's life just by playing the game. You produced a great tribute to the life of Houdini. I am sure Houdini and Bess would be pleased and proud of your efforts. Much appreciation and thanks!
Jeff & Debbie The Houdini family Grand Nephew of Houdini
Some other HoudiniOpoly reviews. Our mailbox is full of these.
Bruce Kalver Past National President, Society of American Magicians. "Dorothy Dietrich and Dick Brooks did an incredible job on this project. After a few years of promoting and fundraising online, Houdini-opoly is finally here. It is beautiful. So glad I purchased two. One to keep and one to frame. A ton of effort went into this. Each card and space on the board has wonderful Houdini history. Bravo to Dick, Dorothy and the Houdini Museum. Contact them before it's too late. Limited run!"
Bill Irwin "Just a note to say thank you! You made our day, opening the box it was exciting so see your dream come true. When my son saw the game he was speechless, he loves Monopoly, he loved 'The Grim Game' and this is just what he needed to get him started on his new act. Congratulations. Bill Irwin"
Hi My "Houdiniopoly" arrived here in the UK on Monday 4th June after a long wait. Thanks for sticking to this project and making it work so well. Best regards Roger
Dr Roger Woods AIMC* Chairman The Modern Mystic League (Blackburn and District Society of Magicians) A Past President of The Northern Magic Circle (UK) Co-author of "Houdini The Myth Maker" & "Harry Houdini Legend & Legacy" www.rogerwoodsmagic.co.uk
As of today we are beginning to end our KickStarter fulfillment. About 99% of backers have gotten their games shipped. There may be a few strays or wait time for out of the country plegees, but they are few in number. A few may have not updated their address and the games may have been shipped to an old address or to an incorrect address still in place at KickStarter. A few others have not paid for their shipping charges, where it was part of the arrangement. This is very bad if you have an out of country location as some cost as much as $80 to ship a game and there is no way we can ship the item twice if it it not our fault. All games shipped anywhere have United States Post Office tracking. Once again we thank you for your support. We have also sold many games on http://HoudiniOpoly.com. In that case the pawns you have gotten as part of your pledge need to be bought separately at an additional fee. Games are limited and are expected to sell out, as many are now buying who held out in fear the project would not succeed. Other orders are coming in once the very high quality of the game is seen or reviewed. As a heads up as of July 1, the game price will go up to $50 plus shipping fee of $15 in the US. The 14 beautiful extra pawn pieces you all got as a reward will be selling for $20. Thanks to all for you patience and trust that would would follow through and get this done and in a classy manner. We had hoped to have a new exciting KickStarter project each year around January, but this one has delayed that plan. We have several ideas and are also looking for suggestions. We have some Houdini Playing card ideas, a book idea, and we have the mold for the Houdini Bust replacement from when we restored the one that was destroyed by vandals at Houdini's Grave. Copies could be made of bronze or other materials. If you have an ideas or suggestions please feel free to reach out to us. magicus@comcast.net, 570 342-5555 Again thanks for your trust and faith in our being able to get this done. Thank you, thank you, thank you!!!
For a list of many of our major sponsors go to Golden Sponsors
For a list of many of our backers go to The Houdini-Opoly Wall Of Fame
For info about the deeds go to DEEDS
For info about the Play Money go to PLAY MONEY
For general info about Houdini Museum T-Shirts click here
For general info about rare Antique Series Houdini Souvenir Program click here
Fun, educational and a parody all rolled into one. Put together by the world famous not for profit Houdini Museum.

Go to our

Most every donor will get at least one game. As with all items Houdini over time it will become collectible and rise in value. Many we have spoken to have said they will be buying a game or games to play as well as games to save intact as collectibles. You Can't Escape The Fun!

Houdini-Opoly is an exciting hero board game for 2-6 players built around the life of one of the most exciting personalities in history. To make the game more thrilling and up to date all of the prices and values throughout the game have been increased proportionally. The largest bill is now $5,000! As you go around the board you will learn about the life of this great icon of the entertainment field, in a fun way. The real estate properties on the board are the actual key places in Houdini's life in chronological order. Each of the property deed cards has additional fun historic information about that particular time and place in Houdini's life. Each time you play you will get different deeds and land on different spots so both the both the enjoyment, and your knowledge about Houdini will increase. Donors will be able to get their names on the deed cards, chance cards, the play money, the box and even the game board itself. Their names will be part of Houdini history forever!

Along with important books by RuthBrandon, Milbourne Christopher, Pat Culliton, Walter B. Gibson, Will Goldston, William Lindsay Gresham, Dough Henning, Beatrice Houdini, Harry Houdini, Bill Kalush, Bruce MacNab, Charles Reyonlds, Ken Silverman and others.